The entire development process up to mass production.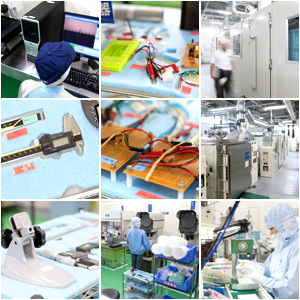 Daiken Medical performs all steps of the product development and manufacturing process in-house, from basic research to mass production. The creativity that our specialists bring to the product development process is critical to the innovative products we create.
In order to deliver high-precision products to our customers in a timely fashion, engineers from our quality control department participate in projects from the earliest stages. These engineers ensure that problems that occurred in the past have been eradicated, and work to identify and prevent potential new problems at an early stage through the entire development process up to mass production.
To ascertain the needs and desires of our customers, our product development teams and quality control engineers visit medical facilities, talk directly with clinicians, and use the information we gain to improve our products.
To fulfill our mission of creating products that medical practitioners rely on and trust, we control everything that relates to product quality in-house. Our work is not fragmented into separate endeavors of research, development, manufacturing, and sales; rather, it is a comprehensive effort that joins all these endeavors into an integrated process.